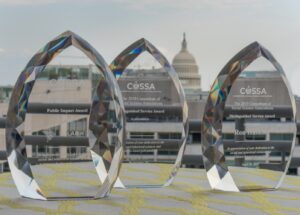 COSSA believes that research in the social and behavioral sciences can change lives, and welcomes an opportunity to acknowledge individuals, groups, and organizations that are making it happen. COSSA's annual Distinguished Service and Public Impacts Awards recognize the people and organizations who advance the social and behavioral science enterprise to affect meaningful change. Awardees are chosen by the COSSA Board of Directors, which represents COSSA's governing member associations. The awards are presented during COSSA's annual Social Science Advocacy Day.
NOTE: Due to the disruptions caused by the COVID-19 pandemic, COSSA's awards were put on hold for 2020, 2021, and 2022. We hope to resume presentation of these honors during the 2023 Advocacy Day.
COSSA Distinguished Service Award
The COSSA Distinguished Service Award recognizes leaders who have gone above and beyond to promote, protect, and advance the social and behavioral science research enterprise.
COSSA Public Impact Award
The COSSA Public Impact Award is awarded to individuals or organizations who are using social and behavioral science research to achieve notable improvements in communities.